Holiday Fun in Summit County
Holiday Fun in Summit County
By Curt Jaeger, Owner, Colorado Vacation Home Services
Tis the season and there's lots of fun and activities planned in Summit County in the next few weeks – if you're headed to the Rocky Mountains for the Holidays, check out some of the fun beyond the ski/board resorts!
During the Thanksgiving weekend, there are several family activities at Keystone and Copper Resorts. A few highlights:
Family cookie decorating at
Keystone Resort November 19, 23, 25
Stop by the Adventure Center at Lakeside Village for some sweet treats and free, creative entertainment. Click Here for event details!
Santa Arrives at Copper November 25
Santa arrives via Pisten Bully Snowcat! Following his grand entrance, kids can share their Christmas list with Santa and Mrs. Claus. The evening wraps up with Copper's annual tree lighting and fireworks in Center Village. Click Here for event details!
Lighting of River Run Celebration
Keystone Resort November 26
Attend the Annual Holiday Tree Lighting Celebration and visit with Santa. Holiday music plays throughout the village. Click Here for event details!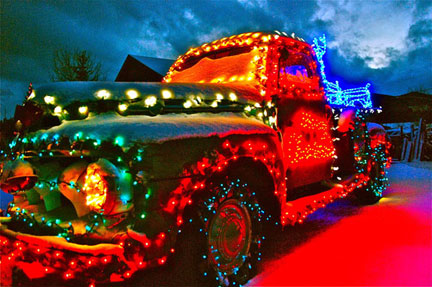 During the festive season, seek out some activities to enjoy the great outdoors:
Tubing hills – These fun zones are set up with designated tubing lanes and a "magic carpet ride" to take you to the top (save your legs and lungs!)
Snowshoeing – there are rentals at the Nordic Centers and at virtually all sports stores
Frisco Nordic Center
The Frisco Center has 14 kilometers of dedicated snowshoeing trails.
Breckenridge Nordic Center
This center has a higher elevation than the one in Frisco, so it typically has more snow. There are 16 kilometers of dedicated snowshoe trails.
Gold Run Nordic Center
The City of Breckenridge owns Gold Run Nordic Center. It is located at the golf course just north of town. While more of those trails are in the open than at the other two centers, some are wooded and also provide access to back country trails.
Freelancing it
For those hardy snowshoers interested in totally getting away from it all, Summit County offers numerous back country trails of varying degrees of difficulty. Excellent sources for finding good trails are the following books: Snowshoeing Colorado by Claire Walter or Winter Trails Colorado by Andy Lightbody and Kathy Mattoon. Both contain detailed information about length, difficulty, scenic attractions, and avalanche danger. Just remember to exercise extreme caution when venturing off the beaten path.
Dinner out on the town
After a day outdoors or by the fire reading a book, dinner at one of the local restaurants is a must. You can check out options by town in the Summit Dining Guide. Click Here for the Summit Dining Guide.
Copyright © 2016 Colorado Vacation Home Services. All Rights Reserved.