Up on the Rooftop–Don't Let Snow Catch You Off guard
By Curt Jaeger, Owner, Colorado Vacation Home Services
Time for annual gutter and roof heat tape check
In between raking leaves and thinking about which snowshoe trail to try next week, Colorado Vacation Homes Services reminds homeowners to ask the question: Have you finished all your pre-winter home maintenance yet?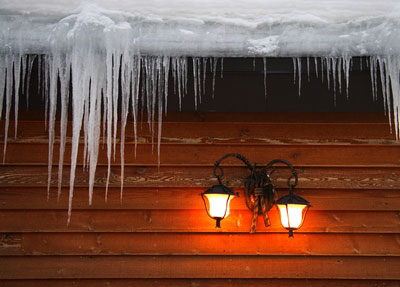 If not, don't delay. As fall temps feel more like winter, and you brace for the next snow dump, it's important to make sure your gutters are fully operational. That way you can rest assured that you've done due diligence to protect your roof this winter.
You may not realize, but your gutters work just as hard in the winter as they do during other seasons. Gutters filled with leaves, branches and pesky pine needles cannot perform well during the constant snow melt typical this time of year—and throughout the winter season. It's important to have the gutters checked annually.
Clean gutters paired with roofing heat tape are two of your roof's best defenses against ice dams this winter. Heat tape is installed in strips along the roof. It helps prevent ice dams by consistently heating the roof and melting snow. As snow melts, you want to have clear gutters so the water can move through the downspouts.
Time to check roofing heat tape
If you've invested in heat tape, then you already know it's wise to hire a professional to run an annual check to ensure all strips are in working order. During the check, professionals typically look for broken strips and electrical shorts in the lines. They should also check gutters for optimal water flow. If flow is impeded, then you're not taking full advantage of the product. And that could lead to roof damage caused by ice dams, which is common during Colorado winters.
What are ice dams anyway?
Ice dams generally form on the roof as temperatures fluctuate and create a constant freeze thaw cycle on your roof. When snow melts and then refreezes, the pooled water gets trapped under the ice.
With traditional shingles, pooled water on a roof is never a good thing because it tends to make its way underneath the shingles. When this happens it can damage the plywood portion of the roof by rotting the wood. That's why you may see people standing on their roofs in the dead of winter breaking up those ice dams.
Depending on the severity, ice dams can cause thousands of dollars of damage to your roof, ceiling and surrounding drywall inside your home. That's one reason why heated heat tape has become popular. But heat tape cannot do its job if the strips are broken. That's why you need to have the tape checked annually.
If you'd like to schedule a time to have me visit your home and test your heat tape strips and gutters, please book an appointment now.
Curt Jaeger has 30 plus years contracting experience and has been in business since 2006. His wife and business partner Keri, are homeowners in Summit County. Together they understand the challenges that come with owning a second property. Colorado Vacation Home Services wants their customers to enjoy the mountain living experience by saving them the time and worry that goes with home maintenance.
Copyright © 2016 Colorado Vacation Home Services.
All Rights Reserved.